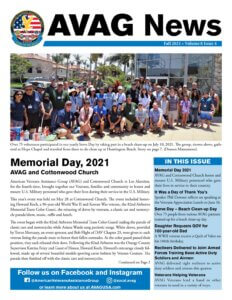 IN THIS ISSUE:
Memorial Day 2021
AVAG and Cottonwood Church honor and mourn U.S. Military personnel who gave their lives in service to their country.
It Was a Day of Thank You's
Speaker Phil Downer reflects on speaking at the Veterans Appreciation Lunch on June 16.
Serve Day — Beach Clean-up Day
Over 75 people from various AVAG partners teamed up for a beach clean-up day.
Daughter Requests QOV for 100-year-old Dad
A WWII veteran receive a Quilt of Valor on his 100th birthday.
Recliners Delivered to Joint Armed Forces Training Base Active Duty Soldiers and Airmen
AVAG delivered eight recliners to active duty soldiers and airmen this quarter.
Veterans Helping Veterans
AVAG Veterans lend a hand to other veterans in need in a variety of ways.