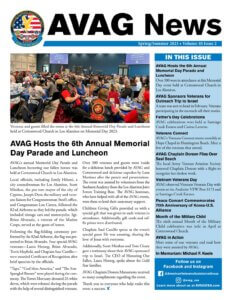 IN THIS ISSUE:
AVAG Hosts the 6th Annual Memorial Day Parade and Luncheon
Over 300 were in attendance at this Memorial Day event held at Cottonwood Church in Los Alamitos.
AVAG Sponsors Veterans for Outreach Trip to Israel
A team was sent to Israel in February. Veterans participating in the outreach tell their stories.
Father's Day Celebrations
AVAG celebrations were held at Santiago Creek Estates and Casitas Laverne.
Veterans Connect
AVAG's Veterans Connect meets monthly at Hope Chapel in Huntington Beach. Meet a few of the veterans that attend.
AVAG Chaplain Doreen Flies Over Seal Beach
The local Army Veteran Aviation Society honored Chaplain Doreen with a flight to recognize her tireless work. 
Vietnam Veterans Day
AVAG observed Vietnam Veterans Day with events at the Anaheim VFW Post 3173 and at Santiago Creek Estates.    
Peace Concert Commemorates 70th Anniversary of Korea-U.S. Alliance
Month of the Military Child
The sixth annual Month of the Military Child celebration was held in April at Cottonwood Church.
AVAG in Action
Meet some of our veterans and read how they were assisted by AVAG.
In Memoriam: Michael F. Keele