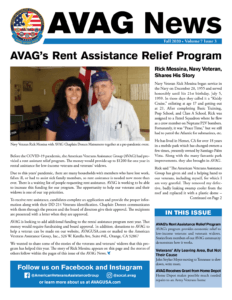 IN THIS ISSUE:
AVAG's Rent Assistance Relief Program
AVAG's program provides economic relief to low-income veterans and veteran's widows. Stories from members of our AVAG community demonstrate how it works.
Veteran's Ally Leaving Area, But Not Their Cause
John Stryker Meyer moving to Tennessee to slow down, write more.
AVAG Receives Grant from Home Depot
Home Depot makes possible much need repairs to an Army Veteran's home.