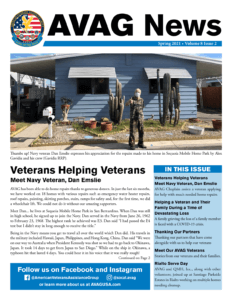 IN THIS ISSUE:
Veterans Helping Veterans Meet Navy Veteran, Dan Emslie
AVAG Chaplain assists a veteran applying for help with much needed home repairs.
Helping a Veteran and Their Family During a Time of Devastating Loss
A family grieving the loss of a family member is faced with a COVID-19 crisis.
Thanking Our Partners
Thanking our partners that have come alongside with us to help our veterans
Meet Our AVAG Veterans
Stories from our veterans and their families.
Rialto Serve Day
AVAG and QMH, Inc., along with other volunteers, joined up at Santiago Parkside Estates in Rialto working on multiple homes needing cleanup.