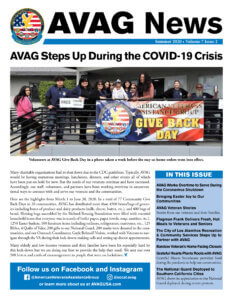 IN THIS ISSUE:
AVAG Works Overtime to Serve During the Coronavirus Shutdown
Bringing Easter Joy to Our Communities
AVAG Veteran Stories
Stories from our veterans and their families.
Flagman Frank Delivers Fresh, Hot Meals to Veterans and Seniors
The City of Los Alamitos Recreation & Community Services Steps up to Partner with AVAG
Barstow Veteran's Home Facing Closure
Grateful Hearts Plants Roots with AVAG
Grateful Hearts Storehouse provided food during the pandemic to help our communities.
The National Guard Deployed to Southern California Cities
AVAG shows its appreciation to the National Guard deployed during recent protests.