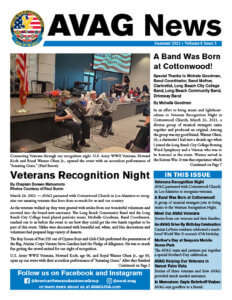 IN THIS ISSUE:
Veterans Recognition Night
AVAG partnered with Cottonwood Church in Los Alamitos to recognize veterans.
A Band Was Born at Cottonwood!
A group of musical strangers join to bring music to the Veterans Recognition Night.
Meet Our AVAG Veterans
Stories from our veterans and their families.
An AVAG Drive-By Birthday Celebration
Casitas LaVerne residents celebrated a much-loved World War II veteran's 97th birthday.
Mother's Day at Sequoia Mobile Home Park
The AVAG team and partners put together a special Mother's Day celebration.
AVAG Helping Our Veterans in Hemet Palm Vista
Stories of three veterans and how AVAG provided much needed assistance.
In Memoriam: Gayle Bohnhoff-Vrabec
AVAG says goodbye to a friend.