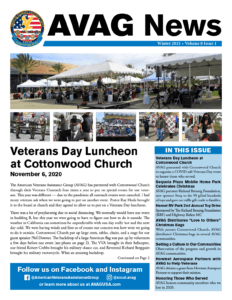 IN THIS ISSUE:
Veterans Day Luncheon at Cottonwood Church
AVAG partnered with Cottonwood Church to organize a COVID safe Veterans Day event to honor those who served.
Sequoia Plaza Mobile Home Park Celebrates Christmas
AVAG partners Richard Breunig Foundation, new sponsor Sway to the 99 gifted hundreds of toys and gave out raffle gift cards to families.
Hemet RV Park 2nd Annual Toy Drive
Sponsored by The Richard Breunig Foundation (RBF) and Highway Riders MC
AVAG Distributes "Love to Others" Christmas Bags
With partner Cottonwood Church, AVAG distributed Christmas bags in several AVAG communities.
Setting a Culture in Our Communities
Observation of the progress and growth in AVAG communities.
Howmet Aerospace Partners with AVAG to Help Veterans
AVAG obtains a grant from Howmet Aerospace Partners to support their mission.
Honoring Those Who Served
AVAG honors community members who we lost in 2020.