The successful "Free Furniture For Veterans" program is beginning its second year of providing free furniture to veterans who are members of the American Veterans Assistance Group (AVAG) as well as any veteran who lives in the forty Affordable Community Living and Santiago Communities Inc. across the west.

And, on February 12, another helpful item for veterans was added to the list of free giveaways in this program, 16-piece home painting kits which contain rollers, paint brushes, scrapers, a drop cloth and other items needed to paint a house, said AVAG Executive Director Lee Martin.

The first 16-piece painting kits were given to veterans and their family members Thursday February 12 during a regularly scheduled "Free Furniture For Veterans" distribution night and monthly AVAG meeting at the Sequoia Plaza Mobile Home Park on West Foothill Boulevard in San Bernardino.

"Over the last year, we've had some bumps in the road, but the Free Furniture For Veterans program has been a success," said Martin. "And tonight (February 12) the news of the painting kits was a big hit with the veterans we serve through the AVAG program and any veteran who lives in one of Santiago or Affordable Community Living communities."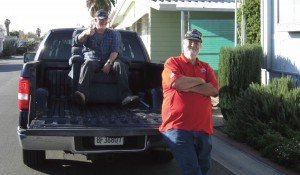 Program Director Scott McReynolds said that during the first year of this operation more than ninety pallets of furniture have been assembled by Martin and a growing cadre of veteran volunteers and distributed to veterans.

Korean War Veteran James Brown picked out some furniture he wanted and took home a painting kit February 12 "because I could sure use some fresh paint in a few rooms in my home….at first, I kept waiting to hear the other shoe drop, to hear that there was a hook to this program."

"But, there is no hook. This is something being done for veterans. To tell you the truth, after not being respected sometimes, it's real nice to have a program like this for veterans. Real Nice."

Air Force Veteran Jeff Scism added, "I thanked Lee tonight for the painting kit. I like the (AVAG) program and what Lee is trying to do here for veterans…that's why I volunteer to help here (in Sequoia Plaza Mobile Home Park) any way I can."

During 2015, as the AVAG program moves into more of the forty Affordable Community Living and Santiago Communities Inc., Martin will continue to distribute the furniture until it runs out. In addition, there is a handyman who works with Martin helping veterans with special needs.

"I love my job," said Martin, a Green Beret Vietnam veteran, "It's real simple, as the good news about it spreads to veterans, we can in turn help more veterans. Our AVAG meetings are interesting as the veterans are bringing their wives now and that keeps thing lively, believe me."

AVAG is not a government organization. It is a private non-profit 501(c)(3) formed to help veterans who live in the forty Affordable Community Living and Santiago Communities Inc. in five western states.