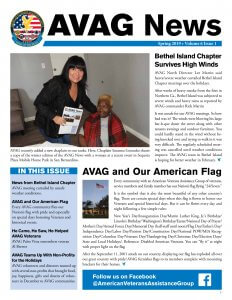 IN THIS ISSUE:
News from Bethel Island Chapter
AVAG meeting curtailed by unsafe weather conditions.
AVAG and Our American Flag
Every AVAG community flies our Nation's flag with pride and especially on special days honoring Veterans and historical events.
He Came, He Saw, He Helped AVAG Veterans
AVAG Palm Vista remembers veteran Al Brewer
AVAG Teams Up With Non-Profits for the Holidays
AVAG volunteers and directors teamed up with several non-profits that brought food, joy, happiness, gifts and dozens of volunteers in December to AVAG communities.